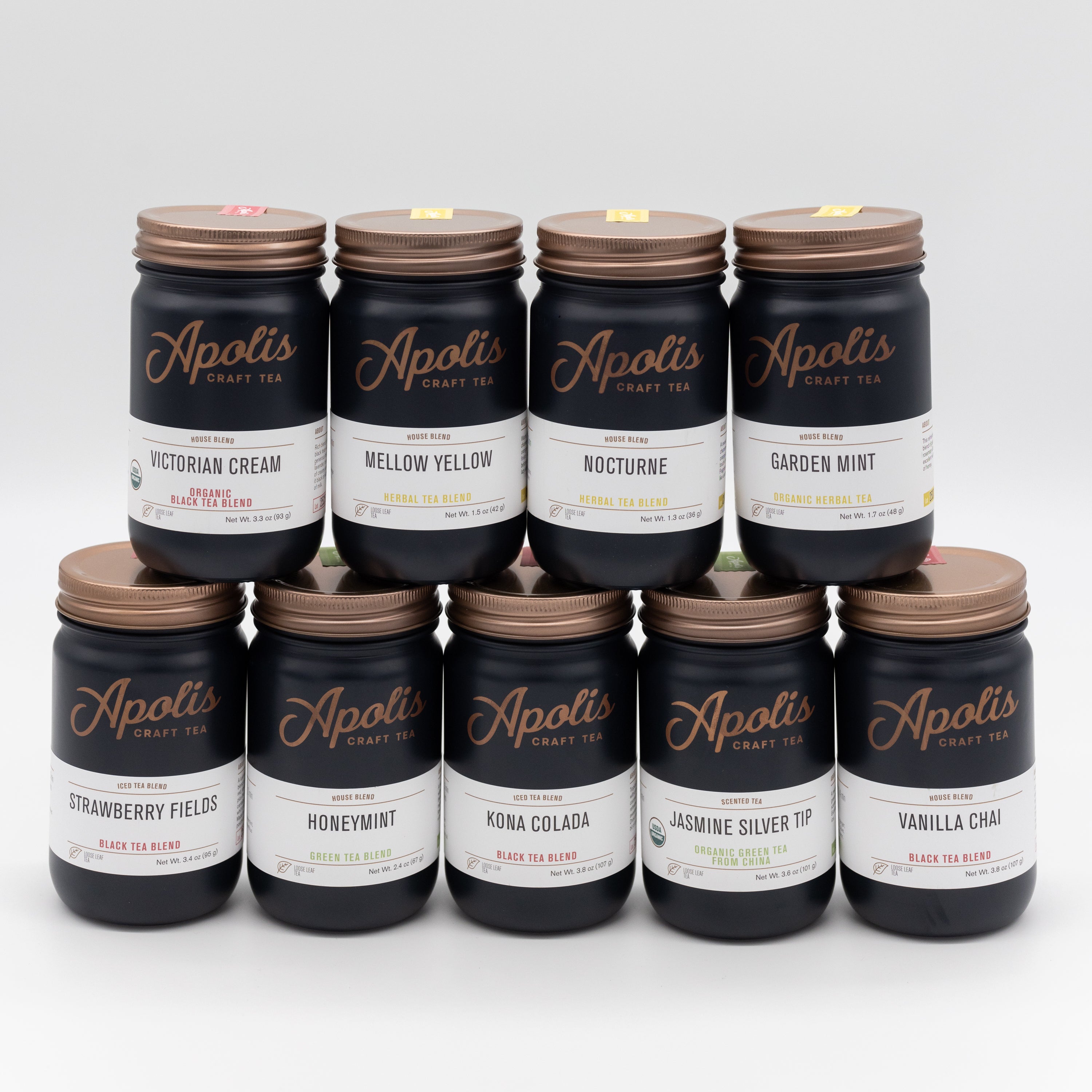 Garden Mint: Made with common garden herbs, this minty blend is refreshing and light with a touch of herbaceous rosemary and sweet lavender. Excellent with a touch of honey or over ice. Caffeine-free.
Honeymint: What goes best with minty green tea? Honey! While we couldn't add actual honey, our tiny (but mighty!) osmanthus flowers have a honey-like flavor. Paired with a touch of orange blossom, this blend is light with a flowery aftertaste.
Jasmine Silver Tip: This high-grade green tea has a nice tight leaf shape and abundant silver tips. It is generously scented with jasmine but is still well-balanced. Stronger than our Jasmine Pearls, the Jasmine Silver Tip is excellent over ice or with spicy food.
Kona Colada:  This juicy, refreshing tea blend is a tribute to the before times (kids and COVID, folks) with tropical passionfruit and a touch of creamy coconut. It is so smooth and refreshing, no sweetener needed! Drink it black or with a bit of coconut milk - also excellent hot!
Mellow Yellow: Warm, mellow chamomile with a touch of orange and a flowery finish. Just as good before bed as it is on a lazy summer day. Excellent over ice or with a touch of honey.
Nocturne: A sweet, floral blend of chamomile, rose, orange blossom, and a touch of lemongrass. It brews a medium-bodied cup that is fragrant and warm, just like a summer night.
Strawberry Fields: A lush, fruity blend made specifically for iced tea with red, ripe strawberries plus the juicy flavor of cantaloupe & a just a whiff of spearmint. All three of those flavors are good but all together they are GREAT.
Vanilla Chai: A hearty blend of traditional chai spices in a base of organic black teas with just a touch of creamy vanilla to round it out. Excellent black, with milk or over ice!
Victorian Cream: A rich blend of organic black teas with a generous helping of lavender blossoms and rose petals with creamy vanilla. Drink it black or with a splash of milk.
Jars contain 2.4 ounces of loose tea or 15 biodegradable tea bags & are powder coated mason jars.
Made in United States
Shelf life: 12–24 months
Storage: Shelf-stable
Weight: 12 oz (340.19 g)
Dimensions: 3 x 3 x 5.5 in (7.6 x 7.6 x 14 cm)